2020: The Biggest Year for Weddings Since the Millenium!
This time of year rings in several familiar holidays such as Halloween and Thanksgiving, but to the millions of couples planning their wedding, we urge you to look past the present and focus on a more distant holiday – the New Year! Many couples assume that they have time to plan and book their vendors at their leisure.  However, this couldn't be farther from the truth. 2020 is going to be one of the biggest years for weddings because the repeating numbers are very attractive to couples wanting to make a statement. This date will be featured on keepsakes that will be cherished forever and many couples are going to make sure they get married in this unique year!
It is very important to book your vendors as soon as possible. We normally recommended booking your wedding cake 3-6 months out, but because this is going to be such a huge wedding year, we are urging all 2020 couples to book 6-9 months ahead of their wedding date.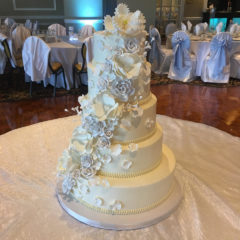 The Creative Cakes Difference
At Creative Cakes, we want your wedding cake tasting to be one of the most enjoyable and personalized moments in planning your wedding. Our attention to detail is what sets us apart. During your consultation you'll sample all of our delicious cake flavors, light-as-air mousses, and our from-scratch real Italian Meringue buttercream.  Feeling a bit stuck with a design decision? Our consultants will create a detailed sketch of your cake and walk you through all your options to help you design the wedding cake of your dreams!
Hold the Date!
We understand how many decisions take place during the wedding planning process and we want your experience with us to be as stress-free as possible! We are allowing all 2020 couples to secure their dream date and cake with a non-refundable $200 deposit. You can have peace of mind knowing that your event is reserved with us, while still giving you time to finalize your flavor and design choices.  Creative Cakes has been in business for over 30 years, you can trust that your vision is in good hands. Don't delay –  book your tasting appointment today!
Back To Blog