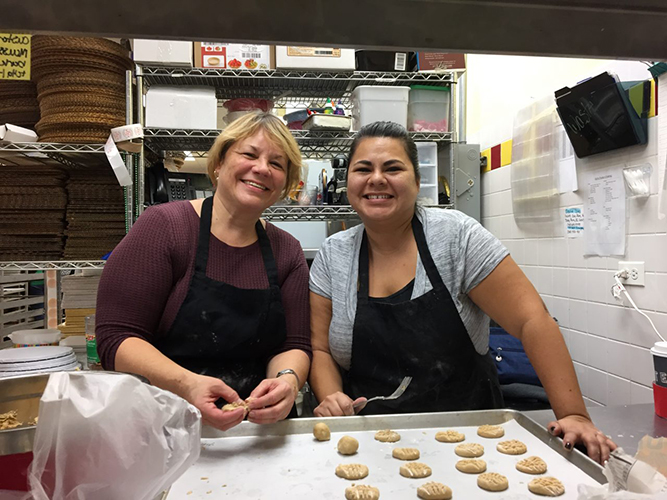 Community Oven Days 2016
Well, another year, another Christmas, another round of Community Oven Days! What is Community Oven Day, you ask? In a nutshell, we invite our customers to come into our bakery with their prepared holiday cookie recipes, they roll out their doughs, put them on cookie sheets, and then our bakers bake them off in our huge commercial oven. View the link here on Eventbrite for more info.

This idea stemmed from something I picked up at a seminar at ZingTrain in Ann Arbor. One of the attendees was from India. She talked about community ovens – a common practice in many of the villages there. She said that what folks do is drop off their unbaked breads, etc. in the morning to the town baker and then pick them up in the afternoon (finished and baked) on their way home from work. The concept sounded really neat- and I thought it might fit in really well here – especially around Christmastime with cookies.
Well, the idea took off. I think we saw about 40 people in the back of the bakery today. The attendees said they felt like "real bakers" and we tied in a cookie contest to give them a chance to "prove their stuff". From their point-of-view, having our bakers bake off the recipes was fantastic because their cookies came out evenly baked – and they did it in 1/4 of the time. Kind of like going to the laundromat, right? They brought their children, shared their recipes, took lots of pictures and had a great time. The feedback was 100% positive – it was a great way for them to be a part of our community, both in baking and here in Tinley Park. 🙂 For more photos from Community Oven, visit our Facebook page.
Back To Blog