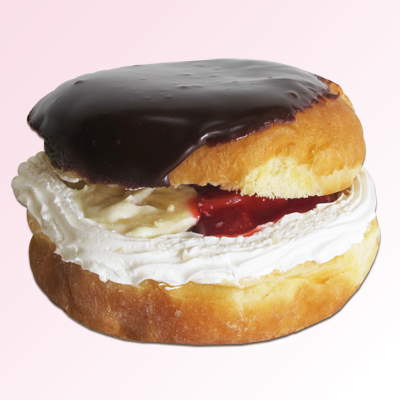 Extreme Paczki Invented at Creative Cakes
They say that the sincerest form of flattery is imitation. Well, since we invented EXTREME PACZKI in 2011, there's been a lot of "flattery", especially from the local bakery community.
That's okay. Have at it. Ours are better.
Why are ours better? Well, our flavors are fresh, unique, and creative. They're loaded with bananas, strawberries, coconut…and bacon! There are the favorites, like the Atomic Mash-Up, the Bananas Foster, and the Turtle ~ and if you want to kick it old school, we've also got Paczki filled with raspberry and apricot preserves, too. Just like with our cakes, we use only the freshest ingredients, like REAL custard – made with eggs, milk, and sugar. (p.s. most other bakeries use a product called Copenhagen Cream, which sounds kinda fancy, but it comes from a bucket and is loaded with preservatives) That's not how we roll. Our ingredient lists are short and as "clean label" as possible. When you pick up a box of our atomic paczki, they are overflowing with fresh fruit, custard, and fresh strawberry filling. Because if you're going to be BAD…why not make it something GOOD?
Order online here, before Sunday, February 11th!
Back To Blog